Description
Cleaning Franchise
A truly unique opportunity to join the UK's leading, bespoke cleaning service business. Share in our rapid growth & success.
The Franchise Model
Only 21 areas available in the UK!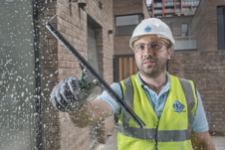 We are offering a truly unique franchise business opportunity to join the UK\'s leading bespoke cleaning service business with an existing corporate client base and share in our rapid growth and success.

Franchisees will be given an exclusive and agreed trading area. We have identified 21 franchise territories in the UK, each offering an excellent opportunity for the ambitious entrepreneurs to build a highly profitable and successful business in a large geographic area. We actively assist and support franchisees to grow sales revenues in their designated territory and will work collaboratively with them.
Our package includes:
An exclusive and protected geographic territory with access to the TKC client base.
Rights to use the TKC trademark and brand.
Right to use our experience, operating systems and methods.
Use of the TKC construction industry accreditations.
Comprehensive initial training with ongoing training and support– for you and your team.
Cleaning equipment and consumable products starter pack.
Advice and assistance with all aspects of starting your new business.
Advice on purchasing equipment and vehicles.
Sales generation support – initial and ongoing.
Sales and marketing materials plus a listing on the TKC website and social media promotion.
Access to TKC\'s preferred suppliers – including factoring services.
Assistance and guidance relating to legislation and health and safety.
Comprehensive administrative support – allowing you to focus on building and operating your business.
IT solutions – our TKC operations, administrative systems and processes.
Franchise business manuals.
Our franchise training programme offers considerable advice, know-how and expertise. TKC management have made a considerable effort to prepare a detailed programme for all franchisees.